With a Summerstone in my gobbie bag and a Curtana provided courtesy of Denruki, I'm almost ready to pop Suzaku. I just need a small group to help me kill Brigandish Blade, then we're good. I want to lock Neptunal Abjuration: Feet for myself, and have the money drops shared between helpers.
Suzaku Notes: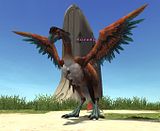 *
Spawned by trading a Gem of the South and a Summerstone to the ??? at (E-9).
*
Can be respawned 15 minutes after Suzaku is defeated.
*
The Antarctic Wind and Seal of Suzaku are guaranteed drops.
*
More than one of the same Abjuration can drop from one Suzaku i.e. two Neptunal Abjuration: Feet, Drop rates may vary due to this.
*
Uses the attacks:
*
Chainspell
, allowing instant casting of spells, including Firaga III and Flare.
*
The most effective way of countering Suzaku's Chainspell is for a RDM75/DRK37 to Chainspell themselves and spam Stun. Suzaku has no noticeable resistance to stun, making this the most effective method for countering Chainspell.
*
Shadowbind will work when Suzaku Chainspells. Just make sure all melees and tanks are disengaged and run out of spell casting range, as dealing damage to Suzaku while Shadowbound may free him from the bind.
*
It is also possible to Silence Suzaku, rendering Chainspell ineffective. This is an unreliable method, however, since Black Mages using Elemental Seal with Silence will still be regularly resisted.
*
It is possible to straight tank Suzaku's Chainspell through the use of plentiful fire resistance gear, Shellra V, Barfira, Fire Carol and the Corsair's Roll Magus's Roll. Flares were hitting Paladins for ~200 when unresisted, allowing White Mages to keep on top of curing. The only danger with this method is tanks being hit between shadows because of the Firaga III spam, but since Suzaku will be busy casting spells, this won't happen very often.
*
Additional Effect: Fire Damage
*
Burn
*
Fire IV
*
Firaga III
*
Flare
*
To remove the Additional Effect, you can throw an Arctic Wind which is a drop from Genbu. (Only works if the Arctic Wind successfully hits.)
*
Mugged for 3300+ gil
*
The Shrine of Ru'Avitau version is summoned by Kirin.
*
This version can be silenced, and is significantly weaker than the original.
So, is anyone interested? I'll set up a date once we kill Brigandish Blade.