Some people didn't get ready on time last time for the Sleepga 2 NM quest. So we are going to help the last ones to get their scroll
I am hoping that people will be able to finish the pre-quests this week, so we can do the NM sometime next week. If you need help with anything, like cards, fights , let me know and I will come and help, if I am not busy with something else ;x
Any help is appreciated.
Searching for the Right Words
Start NPC: Ilumida - Upper Jeuno (G-8)
Requirements: Jeuno Reputation 6
Reward: 3000 gil, Scroll of Sleepga II
Previous Quest:
A Candlelight Vigil
,
Rubbish Day
,
Never to Return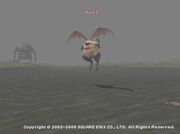 Walkthrough
* Speak to Kurou-Morou after completing the prerequisite quests. You will see a short CS then go speak to Ilumida for a cutscene, in which you learn that Ilumida wants a Moondrop (key item). When you accept it will flag the quest in your log.
* Travel to Boyahda Tree and examine a ??? at H-8 in 2nd map of Boyahda Tree between 19:00 and 04:00 to spawn the Ahriman NM Agas. You need a good party of 75's to kill this NM and a whm for Stona as he petrifies you once or twice in the fight. Alternatively, you can try to ask for help from one (or more) of the nearby Beastmasters, who can solo it with some skill.
* Agas uses Level 5 Petrify, which means that only players with a job level divisible by 5 are able to become Petrified. A White Mage may not be needed for Stona depending on the job level(s) of the party.
* Kill Agas and examine ??? again between the hours of 19:00 and 04:00 to get the Moondrop.
* Only one person in the party needs to pop Agas to get the whole party their own Moondrop.
* Return to Upper Jeuno and talk to Ilumida for your reward.
Note
Agas can't pop during a New Moon. If you kill Agas, but do not get to the ??? before 04:00, you will still be able to get the Moondrop, even if you log out, zone out, or disconnect.
Note
If you return to collect the Moondrop, (after previously defeating Agas under the correct conditions.) it's unatainable during the New Moon phase.
Optional
Head to Lower Jeuno and talk to Kurou-Morou twice (then Chululu once) to complete the storyline
LINK:
http://wiki.ffxiclopedia.org/wiki/Searching_for_the_Right_Words