Dude and Ethy really have been wanting this club. KSNM looks interesting. Any ideas, suggestions?
Contaminated Colosseum
Type:
BCNM
Zone:
Horlais Peak
Restrictions:
Level:
No restriction.
Members:
6
Time:
30 minutes
Orb:
Atropos Orb (30 Kindred's Seals)
Mobs:
Evil Oscar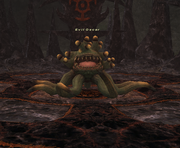 Treasure
Your armoury crate will load out of the following groupings:
All of:
Malboro Fiber (100%)
One of:
Michishiba
,
Morgenstern
,
Senjuinrikio
,
Thyrsusstab
One of:
Cassie Earring
,
Claymore Grip
,
Malboro Vine
,
Morbolger Vine
,
Pole Grip,
Spear Strap
One of:
Adaman Ingot
,
Orichalcum Ingot
,
Oscar Scarf
One of:
Evoker's Boots
,
Ostreger Mitts
,
Pineal Hat
,
Tracker's Kecks
One of:
Coral Fragment
,
Darksteel Ore
,
Demon Horn
,
Ebony Log
,
Gold Ore
,
Gold Thread
,
Granite
,
Mahogany Log
,
Mythril Ore
,
Petrified Log
,
Platinum Ore
,
Rainbow Cloth
,
Ram Horn
,
Vile Elixir
,
Vile Elixir +1
,
Wyvern Scales
One of:
Beetle Blood
,
Damascus Ingot
,
Damascene Cloth
,
Malboro Fiber
,
Philosopher's Stone
,
Phoenix Feather
,
Raxa
Notes
*
Evil Oscar uses Morbol special attacks and Extremely Bad Breath that causes

instant death

.
It is a frontal AoE attack but only has a range of approximately
10'
.
* At certain time intervals, the chat log will display the message "Evil Oscar begins filling his lungs with the foul air around him..."; once this message has been displayed for the third time, Evil Oscar will immediately start to ready Extremely Bad Breath if its target is within range. If its target is not within range, it will wait until it is before readying the attack.
* The time between warnings for Extremely Bad Breath shorten as the fight progresses.
* It is possible to outrun Extremely Bad Breath before it occurs, as it has a long readying time. However, even if its intended target runs out of range, it can still hit others.
*
Evil Oscar's physical attacks have an added effect of Weight
. The effect is extremely potent and will make escape from Extremely Bad Breath almost impossible if you are targeted by it.
Utsusemi is highly recommended for anyone at risk of receiving physical blows
.
* It is susceptible to Gravity and Bind, but will gradually gain resistance to both effects with repeated use.
* It is susceptible to DoT spells such as: Dia/Bio, Poison, Elemental Enfeebles, Helixes, and Requiem.
*
It is immune to Sleep and Stun
.
Contaminated Colosseum/Strategies
* This section is not meant to discourage people from trying different combinations, but to illustrate combinations that have been tried and tested. Please feel free to try this BCNM with any combination you think might work, and above all, have fun!
5-6 Summoners
2-3 BST & 2-3 SMN
Summoner Zerg
Party of SMN/WHM using blood pacts to kill Evil Oscar at range
Strategy:
5 Summoners L70+ make short work of this BCNM. Before beginning the attack, assume positions around Evil Oscar on the perimeter of the "arena" at the top of the hill. Each Summoner should then cast Garuda, use a Yagudo Drink, and then Assault the malboro. Keep using Predator Claws as often as possible. Should Garuda fall to melee damage or the Breath attack, immediately recast and re-Assault. Occasionally, a Summoner may be put to sleep, but none are likely to take any damage. With a healthy assault, the mob shouldn't move from the middle of the ring. This strategy also works with 3 summoners and 2 beastmasters. You use the same positioning as the summoner and using Courier Carrie is recommended. The beastmaster pets provide cover should any of the Garudas fall to melee or breath damage.
Summoner Zerg + Ninja Kite
Party of SMN using blood pacts to kill Evil Oscar while being kited by a Ninja w/ WHM healer.
Strategy:
* The White Mage's primary job is to Raise 3 in case the Ninja fails to kite correctly and heal when needed.
* White Mage can be replaced by another SMN if the Ninja is experienced with kiting this BCNM, but having some Reraise items would be smart for emergencies.
* Start off by having the Summoners take out Garuda and hit Evil Oscar with Predator Claws. Let Garuda fight Oscar until she dies. The ninja must then Provoke.
* The ninja should kite (sticking to the left wall going down the hill and returning upwards on the right wall) until he sees Oscars pre-Extremely Bad Breath message 2 times, Send out a warning that he is going to force the AoE Death move, and then run once the message that Oscar is readying the move appears. If the ninja does this correctly Oscar will be stunned for a few seconds. This gives the ninja time to turn around and head up the hill.
* While Oscar is stunned from failing to use the Bad Breath attack this also gives the Summoners a chance to use Predator Claws again.
* Just repeat those to steps having the Ninja use a Down and Up path on the entire hill, stopping to only let Oscar use his attack, and while stunned the summoner uses Predator Claws. If done correctly there shouldn't be any death and no need for the second ninja to act.
RDM/NIN x2 BLM/NIN x2
Party casts nukes and gravity/bind.
Strategy:
* Buff and Reraise before the BCNM and make sure to get full mp. Utsusemi is critical since Oscar can gravity just with physical attacks.
* BLMs Elemental Seal and cast their strongest AM II's. RDMs should be prepared to gravity and bind. These two debuffs should be on at all times.
* Kite Oscar from the top of the hill to the bottom while nuking Tier IVs for BLM Tier IIIs for RDM along the way. Repeat by going up the hill. Make sure to cast Utsusemi if your shadows are removed. If you run out of MP make sure that Oscar is not targeting you and rest in a safe spot.
* When Oscar uses his Extremely Bad Breath, run for it. Even if in mid-cast, abandon it and run and you should be able to get away from it. Keeping a 11-12' distance away from it will allow you to kite it when you reach the end of the ramp.
* Keep nuking till it dies. 2 hours are not necessarily needed.
LINK:
http://wiki.ffxiclopedia.org/wiki/Contaminated_Colosseum