2008年11月22日 The Adventure Continues With Three All-New FINAL FANTASY XI Expansion Chapters!
*Available for online purchase only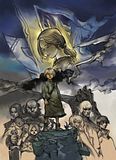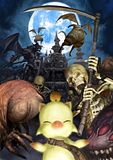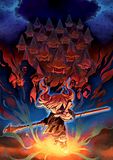 http://www.playonline.com/ff11us/addon/
http://www.playonline.com/ff11fr/addon/
http://www.playonline.com/ff11de/addon/
■Masato Kato, who oversaw the original plot conception on FINAL FANTASY XI from initial release up through the Rise of the Zilart expansion, will also play a key role in the creation of this new series of installments.
■The first installment, A Crystalline Prophecy – Ode of Life Bestowing, is slated for release for all languages and platforms in Spring of next year. Subsequent installments will then follow, being released in intervals of every few months.
These expansions packages will only be available through online purchase via PlayOnline. The projected cost for each installment is around $10.00.
Unlike its predecessors, such as Treasures of Aht Urghan and Wings of the Goddess, this original series of expansion packages will be distributed exclusively as online add-ons. Players may rest assured, however, that version updates for the Wings of the Goddess expansion will still continue for some time. Concurrent with the regular version updates, the new expansions are being developed as a with a "novelette" approach. Indeed, a separate development team has been established specifically for these new expansions.
Additional Scenarios?
Up until now, expansion packs have generally been developed from a perspective of "lateral expansion," focusing namely on the introduction of new areas. These three new expansions, however, will deepen the storylines running through pre-existing areas by ushering in all-new plots and intrigues. While not necessarily containing as much content as traditional expansions, these episodic scenarios are designed to take anywhere from one to two months to complete.
Target Levels?
Though the quests can easily be started by a solo player somewhere in the vicinity of level 30, they will tend to become more difficult as the storyline progresses. By the end, completion of the quests will likely require a party of level 75 characters, with the rewards being geared towards high-level players as well.
Players can engage in these new storylines simultaneously with any of the missions from preceding expansions without conflict.
The Second Scenario!
■Version Update Plans (cont.)
"Fields of Valor"
Fields of Valor is a new in-game system which has been a long time in the coming. By using an item called a "Field Manual" near outposts or in close vicinity to cities, players may undertake quests to fell a designated number of certain beasts. Completion of these hunting quests will net players experience points. This may prove the perfect small-scale endeavor for players waiting for a party invite, or mayhap on those occasions when you might not have quite enough time to join a leveling party, but still want to spend a little time having fun.
※Please not that monsters must yield experience in order to be constitute confirmed kills.
※Fields of Valor quests may be flagged once per Vana'diel day—a relatively short waiting period compared to other in-game events.
【Treasure Caskets】
Following the conclusion of combat, a "Treasure Casket" will appear to bring a little bit of cheer to the hunt-weary adventurer.
These treasure caskets may contain two types of rewards: temporary items and regular items. The goods which players receive will differ according to the area they are in, but for the most part will consist of items such as medicines to aid them in battle, and, for the luckiest of souls, exclusive gear which can only be obtained on the hunt!
The two in-game systems detailed above will be introduced in the December version update, and do not require the installation of any expansion packs. They will subsequently be built upon and eventually move into other areas as well, with precedence being given to public favorites.
Scholars and Dancers Rejoice!
The next version update will also see the introduction of Group 2 merit point abilities for the scholar and dancer jobs. While Fan Festival 2008 in Japan will proudly play host to the unveiling of the scholar's new enhanced abilities, a tight lid will be kept on the dancer's secrets until the American Fan Festival, slated for early December.
Altruism
Light Arts Stratagem (requires two charges).
Increases the accuracy of your next white magic spell.
Focalization
Dark Arts Stratagem (requires two charges).
Increases the accuracy of your next black magic spell.
Tranquility
Light Arts Stratagem (requires two charges).
Your next white magic spell will generate less enmity.
Equanimity
Dark Arts Stratagem (requires two charges).
Your next black magic spell will generate less enmity.
Enlightenment
Optimizes both white and black magic capabilities and allows access to both addenda for your next spell. Recast: 10min.
Stormsurge
Storm-type spells grant a bonus to attributes associated with their element.
Initial bonus value: +3.
The scholar and dancer relic attire sets will also make their way to Vana'diel this winter!
Naturally, players will have to venture into the Dynamis areas should they hope to acquire them. Happy hunting!
【Wedding Bells!】
【Opinions from the Online Community】
"There was certainly an outpouring of voices claiming the Glory Crown was a dud…
I can assure you it's quite real."
- Takeda Kenzo, Battle Team
Truth be told, the crown indeed possesses a hidden effect.
Namely, when a player receives Sanction while wearing the Glory Crown, they will receive the effect of an additional +1 Imperial defense bonus.
The Imperial defense rating, usually calculated by the number of successful defenses of the capital, is beneficial to players as it has a direct influence on the amount of experience points gained by defeating enemies, and also grants bonuses such as prolonged food effects.
However, players should be aware that when determining Sanction effects, an Imperial defense rating of 8 is the maximum allowed for, and any number beyond this will afford no additional bonuses.
"I think the Tidal Talisman is one of the coolest looking pieces of gear out there."
- Hiromichi Tanaka, Producer
When Mr. Tanaka first approached the graphic design team, he expounded his vision of a "brilliant pendant to grace the necks of all adventurers everywhere, be they in string bikinis or surf shorts." And yet due to some unforgivable miscommunication somewhere along the line, the end product was a luxurious long-coat seemingly tailor-made for high-end players.
The original prototype was something along the lines of…
But, being nothing more than a complimentary in-game bauble accompanying the actual merchandise, it was finally decided upon to create a modest, understated piece of Level 1 gear that players wouldn't necessarily drool over. Even the enchantment was intentionally made a bit tongue-in-cheek so as not to be something players would feel absolutely compelled to have.
But, we just can't seem to part with the original design. Maybe we'll hang onto these graphics and reuse them for a high-end piece of gear sometime in the future…
The First Scenario!
■Version Update Plans
・When a Level Sync designee levels up, party members will no longer lose the effects of beneficial statuses such as Protect, nor will they lose their TP. Charmed pets will also no longer be released, even if they are of a level higher than the player controlling them. In addition, "evasion," "enmity," and "HP/MP recovered while healing" will be added to the list of equipment attributes which will remain active and be adjusted by the Level Sync system. While keeping both the gear for certain level ranges and their attributes in mind, we plan to continue to carry out modifications to make both Level Sync and level-restricted areas as smooth and enjoyable as possible.
・New Starlight Celebration Items
・Wings of the Goddess Missions
Further details will be revealed via Topics on the official FINAL FANTASY XI site.
Keep an eye out!
・The Mysterious Young Beauty
It certainly looks to be that fiery lass around which the Wings of the Goddess missions are revolving, but something seems…different.
■Delve into Business with the Moblin Maze Mongers!
・"Moblin Maze Mongers" is the official, final product of the work-in-progress introduced at last year's Fan Festival under the provisional moniker, "Private Dungeon."
Outline)
The sole premise behind the development of M.M.M. was a to fashion a system defined by the ability for anywhere from one to six players to engage in relatively laidback gameplay.
In keeping with several of the pre-existing themes of Vana'diel, we decided to implement the system as a series of labyrinths run by Moblins for adventurers to explore. Let the spelunking begin!
Flow)
・First, the players themselves determine the rules for their maze. Once these rules are in place and the proper preparations made, it's down into the maze! Should players prove fortuitous enough to clear their maze, their efforts will not go unrewarded.
Designed to accommodate both inexperienced newcomers and seasoned veterans alike, maze options will cover a wide spectrum of possibilities, while at the same time maintaining an easy-to-grasp simplicity.
Rules)
There are two main categories of items which are utilized in the new M.M.M. system.
The first of these are "Maze Tabulae." These are best thought of as a kind of game board. By placing various pieces, described below, on this board, players will determine the specific nature of their maze.
The second category of items is comprised of "Maze Vouchers" and "Maze Runes." These will be used by players to set the rules and arrange the interior of the maze.
The vouchers determine what type of adventuring the player will undertake. For example, it may be an all-out brawl against a large number of foes, or overcoming obstacles through skillful acts of synthesis, etc. The runes, then, will function to set up and populate the maze in accordance with the rules laid forth by the vouchers. This includes, but is not limited to, such details as the type of enemies that will be faced and their degree of difficulty, the location of objects throughout the maze, the imposition of further rules and regulations, and so on.
Maze Vouchers & Maze Runes)
If the Maze Tabula represents the game board, then the Maze Vouchers and Maze Runes can fittingly be thought of as the game pieces. By arranging these on the tabula, players will determine the rules and layout of their mazes. When designing their mazes, players will have to take into account that certain pieces are specific to certain maze configurations. For example…
Procuring Items)
To start with, the Moblins will furnish players with a beginner's set. At present, the idea is for players to obtain other tabulae, vouchers, and runes as rewards for their maze escapades, with even further items possibly becoming available in the future at public events such as Fan Festival or in-game seasonal events.
There's More!)
In addition to all of this, the M.M.M. system will also allow players to share their maze creations with one another. Although a restriction will be imposed limiting the number of uses, players will be able to obtain these "third-party" tabulae from a mediator NPC. The rewards available will be directly affected by the rules and degree of difficulty in play, so be sure and try your hand at as many variations as possible!
Myriad Uses)
Just like fighting enemies virtually anywhere else in Vana'diel, combat within the maze depths will yield both experience points and skillups. There is also the possibility of increasing your crafting skills, should the theme of the maze be based on synthesis. Capable of accommodating players up to a crafting skill of 60, it may be just the right venue for you and a friend to practice your handiwork.
Rewards and Remuneration)
Clearing a maze will yield two types of rewards: treasure chests and M.M.M.-specific points. Within the chests, players can expect to find any of a variety of equipment and M.M.M.-related items. Also, amassing M.M.M. points will allow players to purchase other M.M.M. pieces. There are even designs to introduce gear which can only be obtained by braving the mazes!