As I'm sure you've heard in the linkshell recently, there has been an Uggalepih Pendant run in the works for some time now. Derzerb has been relentlessly farming up materials to help out in getting the shell some pop items, and I think we're just about ready to tackle this challenge. This is placeholder time, and is subject to change based on member availability.
by LS members, but I would immagine we would be able to do some for those wanting to sell as well.
Here is some info on the NM, the pop item required, and the reward.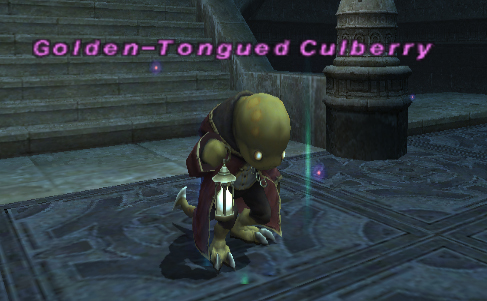 *
Spawned by trading an Odorous Knife or Odorous Knife +1 to the ??? at (I-9)/(J-9) in the uncapped section.
To get to the spawn location:
*
Enter Pso'Xja from Beaucedine Glacier at (F-7) (Nue tower).
*
Once inside, you'll need Sneak until after the last drop.
*
Take the first right you come to, walk east, fall at (I-8).
*
Walk north to the big round room, head east one room, then head north out of that room. Make sure you are at I-7 before you fall.
*
Follow the only path forward one room; fall at (I-6).
*
The ??? is at I-9 in a dead-end of rubble on that map.
Some information on what to expect:
*
Will not melee, use TP abilities, or attempt to close into melee range; only casts magic. It requires less of a delay after attempting to cast a spell, approximately 5 seconds instead of the typical ~20 seconds, before it is able to cast again.
*
Casts Death, Silencega, Paralyga, along with level III -ga nukes, level IV nukes, Drain, and Sleepga II. Begins casting Cure IV at below 80% health.
*
If a hate shift occurs before one of its spells completes, it will automatically be interrupted. When the NM is being spawned, have a party member be ready to divert its attention, in case it decides to open with Death.
If a pet takes hate, the NM will immediately counter with an instant-cast Death spell.
*
Resists Stun and most other debuffs. Cannot be Silenced, but Gravity and Bind can stick.
*
Has Magic Defense Bonus. Nukes will do approximately 2/3rds of the damage they normally do (Spirits Within will do unresisted damage).
*
Bring a Reraise Hairpin or another similiar item as you cannot afford to use Reraise magic later on in the fight when it begins to cure itself for ~350 with Cure IV.
*
Tier III -ga's will one shot you, especially Blizzaga III since it is commonly Ice weather in the zone. Avoid using HP latent equipment such as Sorcerer's Ring because Drain can do about 600 damage without Stoneskin and it has a short cast time so expect to take a few.
*
The tonberry which spawns at the bottom can be a problem if you aggro it so run behind it or back track up the stairs. Be careful here as you will not make it out of casting range should the NM use Death or a large spell when you are close by.
*
It is a good idea to have a BLU (Diamondhide), SCH (Accession + Stoneskin), or SMN (Titan's
*
The NM will not do anything after it runs out of MP. He will just stand there and take abuse.
*
The ??? has a 15-minute pop timer after NM's death.
*
The NM has roughly 30,000 MP.
__________________________________________________________
The Pop Item:


Smithing (70), Woodworking (24?)
Yield: Odorous Knife
HQ 1: Odorous Knife +1
Fire Crystal
1 x Darksteel Ingot
1 x Magnolia Lumber
1 x White Steel
__________________________________________________________
The Reward:

Drop Rate
Uggalepih Pendant (Unknown, but rumored to be 50%) when popped with Odorous Knife
Uggalepih Pendant (100%) when popped with Odorous Knife +1
Latent effect
*
Active while the caster's MP at the completion of a spell, expressed as a percentage of maximum MP from visible equipment--discounting Convert HP to MP armor--is strictly less than 51%.
*
+MP has to come from either Head, Body, Hands, Legs, Feet or Merits. All other sources aren't recognized as part of Max MP.
*
Has been tested with Quick Draw, and the latent is active at Zero MP, 0%. You do not need 1+ MP for the latent to work.
*
Magic Attack Bonus +8.